Hello, hello!
I've managed to keep my Goodreads account updated with my favorite books for a long time and I made this list by revisiting my favorites shelf there. I'll add a link to my Goodreads account in the About page! This list consists of rather older books! I promise to make another one that'll include more diverse books written by #ownvoices authors.
♥ YA CONTEMPORARY ♥
Aristotle and Dante Discover the Secrets of the Universe
by Benjamin Alire Saenz
Dante can swim. Ari can't. Dante is articulate and self-assured. Ari has a hard time with words and suffers from self-doubt. Dante gets lost in poetry and art. Ari gets lost in thoughts of his older brother who is in prison. Dante is fair skinned. Ari's features are much darker. It seems that a boy like Dante, with his open and unique perspective on life, would be the last person to break down the walls that Ari has built around himself.
But against all odds, when Ari and Dante meet, they develop a special bond that will teach them the most important truths of their lives, and help define the people they want to be. But there are big hurdles in their way, and only by believing in each other―and the power of their friendship―can Ari and Dante emerge stronger on the other side.
To begin with: ARISTOTLE AND DANTE DISCOVER THE SECRETS OF THE UNIVERSE is my weakness and I'll always be hella happy to talk about for hours. For anyone who has not read it: What are you DOING? It's about the softest two Mexican boys in America during the late 90s who discover love and feelings. They're not ever gonna be ashamed of that, and helped me bond with my best friend. This book is sparse with description because all you have to do is let it tug on your heartstrings. It's all about how the world is reflected in your heart and I believe this book could be for everyone. Moonlight gives me Ari&Dante feelings to be quite honest.
---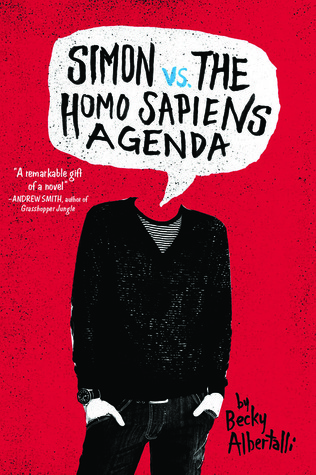 Simon VS The Homo Sapiens Agenda
by Becky Albertalli
Sixteen-year-old and not-so-openly gay Simon Spier prefers to save his drama for the school musical. But when an email falls into the wrong hands, his secret is at risk of being thrust into the spotlight. Now Simon is actually being blackmailed: if he doesn't play wingman for class clown Martin, his sexual identity will become everyone's business. Worse, the privacy of Blue, the pen name of the boy he's been emailing, will be compromised.

With some messy dynamics emerging in his once tight-knit group of friends, and his email correspondence with Blue growing more flirtatious every day, Simon's junior year has suddenly gotten all kinds of complicated. Now, change-averse Simon has to find a way to step out of his comfort zone before he's pushed out—without alienating his friends, compromising himself, or fumbling a shot at happiness with the most confusing, adorable guy he's never met.
Of course, the first book that comes to mind when I think of YA contemporary books is SIMON VS THE HOMO SAPIENS AGENDA by Becky Albertalli. Simon Vs is simply my new go-to favorite feel-good book. It has that heartwarming friendships that also made my stomach twist with anxiety the first time I read it. Since then, I read it twice more, as Audiobook and physical copy. It just keeps on getting better. What I especially love about this book is the diversity and the sense of suspense that I didn't expect could exist so well in books that aren't thrillers. Plus the end  totally makes me giggle and grin like an absolute fool so yeah.
---
This Lullaby
by Sarah Dessen
When it comes to relationships, Remy doesn't mess

around. After all, she's learned all there is to know from her mother, who's currently working on husband number five. But there's something about Dexter that seems to defy all of Remy's rules. He certainly doesn't seem like Mr. Right. For some reason, however, Remy just can't seem to shake him. Could it be that Remy's starting to understand what those love songs are all about?
It would be a cold day in hell when I don't include at least two Sarah Dessen books. I'm fully aware how Dessen kind of caters to her white audience a lot. I would love me some main POC in her next books. However, because THIS LULLABY was my very first book by Dessen, it holds a special place in my heart. Again, I haven't read this book in ages so there are probably issues that would make my skin crawl if I read it today. In true Dessen manner, there is a girl who meets a boy. There is a lot of banter, good lines, friends-who-turn-into-family dynamic and usually a really sweet healthy heterosexual romance.
---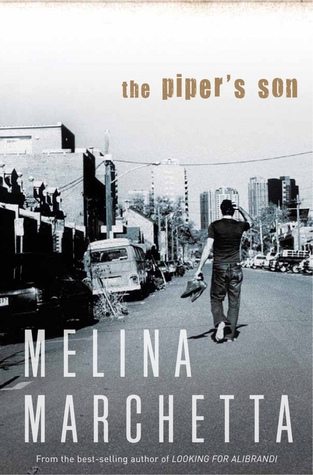 The Piper's Son
by Melina Marchetta
Melina Marchetta reopens the story of the group of friends from her acclaimed novel Saving Francesca—but five years have passed, and now it's Thomas Mackee who needs saving.

After his favorite uncle was blown to bits on his way to work in a foreign city, Tom watched his family implode. He quit school and turned his back on his music and everyone that mattered, including the girl he can't forget. Shooting for oblivion, he's hit rock bottom, forced to live with his single, pregnant aunt, work at the Union pub with his former friends, and reckon with his grieving, alcoholic father. Tom's in no shape to mend what's broken. But what if no one else is either? An unflinching look at family, forgiveness, and the fierce inner workings of love and friendship, The Piper's Son redefines what it means to go home again.
This is one of my favorite books because although it followed another one by Melina Marchetta, THE PIPER'S SON can be read on its own. However, reading SAVING FRANCESCA makes you hyper-aware of how the characters have changed so much as the years passed. In the heart of this story is Thomas and he's such a little asshole that you can't help but want to both hug him and maybe gently knock some sense into him. Marchetta made me care so much for the familial ties and often I found myself crying for Thomas' aunt who had her own point of view that just MURDERED ME. I definitely would love to read this again since just remembering it fills me with warm good (albeit sad in the beginning) feelings. Also: It's set in Australia.
---
◊ YA HISTORICAL FICTION ◊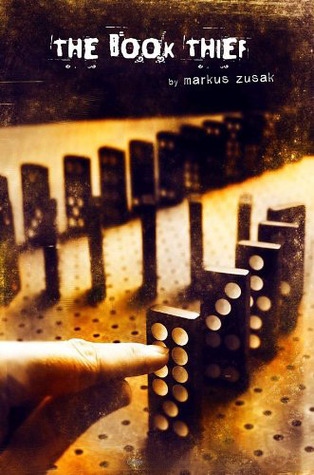 The Book Thief
by Markus Zusak
1939. Nazi Germany. The country is holding its breath. Death has never been busier.
Death has never been busier, and it will become busier still. Liesel Meminger's life is changed when, by her brother's graveside, she picks up an object, partially hidden in the snow. It is The Gravedigger's Handbook, left there by accident, and it is her first act of book thievery. So begins a love affair with books and words, as Liesel, with the help of her foster father, learns to read. Soon she is stealing books from Nazi book-burnings, the mayor's wife's library, and wherever there are books to be found. But these are dangerous times. When Liesel's foster family hides a Jew in their basement, Liesel's world is both opened up, and closed down.
THE BOOK THIEF by MARKUS ZUSAK was an automatic choice for me because there is something about how sentimental I get whenever I think about this book that simply won't let me ignore it if I'm making a list. I know, I know, it's unbearably sad and it's been over four years since I last read but I just can't let down 18 year old me because she loved it so much. It was one of those firsts books that made me both hate and love the historical fiction genre because… you guessed it: all the deaths. I love characters in books as much as I love REAL PEOPLE so it was not easy to let go of so many because well… the book is set during WWII… so you know… they die. This is no spoiler. Actually: Don't get attached to ANYONE, it'll save you the heartbreak.
---
Salt to the Sea
by Ruta Sepetys
Winter, 1945. Four teenagers. Four secrets. Each one born of a different homeland; each one hunted, and haunted, by tragedy, lies…and war.
As thousands of desperate refugees flock to the coast in the midst of a Soviet advance, four paths converge, vying for passage aboard the Wilhelm Gustloff, a ship that promises safety and freedom.
Yet not all promises can be kept.
Another YA book that'll get you crying in no time. Also set during WWII (don't I ever learn) and this time it's by the talented Ruta Sepetys who also wrote BETWEEN SHADES OF GREY. For me, I loved SALT TO THE SEA because it got me super attached to the character and it told a very important story (mirroring the important of the first book that Sepetys wrote). Albeit there is quite some grief, it also was so fascinating as it was written from over four characters' point of view (I think, I am not so unsure of all the details) and each voice was very distinguished. The girls and boys at the heart of this story can't be older than 18 and they were all victims to the cruelty of the war.
---
⌊YA PARANORMAL⌋
Vampire Academy series
by Richelle Mead
ONLY A TRUE BEST FRIEND CAN PROTECT YOU FROM YOUR IMMORTAL ENEMIES…
Lissa Dragomir is a Moroi princess: a mortal vampire with a rare gift for harnessing the earth's magic. She must be protected at all times from Strigoi; the fiercest vampires—the ones who never die. The powerful blend of human and vampire blood that flows through Rose Hathaway, Lissa's best friend, makes her a dhampir. Rose is dedicated to a dangerous life of protecting Lissa from the Strigoi, who are hell-bent on making Lissa one of them.
After two years of freedom, Rose and Lissa are caught and dragged back to St. Vladimir's Academy, a school for vampire royalty and their guardians-to-be, hidden in the deep forests of Montana. But inside the iron gates, life is even more fraught with danger…and the Strigoi are always close by.
Rose and Lissa must navigate their dangerous world, confront the temptations of forbidden love, and never once let their guard down, lest the evil undead make Lissa one of them forever…
The only series I will put here is VAMPIRE ACADEMY because to this day I love and appreciate this series so much. This is all told from Rose's point of view, who is NOT white. She got whitewashed in the movie to be honest because I recall her father being Turkish. Anyway, Rose and Lissa have such a strong friendship that truly makes my heart sing. I remember those months I read it and its spinoff (BLOODLINES) were the best months in my university year. They just got me into this awesome universe of vampires and magic and romance. It's about time I give this a second read to be honest.
---
♦ YA FANTASY ♦
Six of Crows duology
by Leigh Bardugo
Criminal prodigy Kaz Brekker has been offered wealth beyond his wildest dreams. But to claim it, he'll have to pull off a seemingly impossible heist:

Break into the notorious Ice Court
(a military stronghold that has never been breached)
Retrieve a hostage
(who could unleash magical havoc on the world)
Survive long enough to collect his reward
(and spend it)

Kaz needs a crew desperate enough to take on this suicide mission and dangerous enough to get the job done – and he knows exactly who: six of the deadliest outcasts the city has to offer. Together, they just might be unstoppable – if they don't kill each other first.
Wow, I can't believe you all are going to make me talk about SIX OF CROWS (and it's sequel CROOKED KINGDOM) by Leigh Bardugo, my absolute favorite book of 2016! If you follow me… or know me in real life, you will not need to even take a look at this list to know that SOC was all I could talk about from August to current day. I love, love, love fantasy books that are character driven and this is exactly what this book is about. Plus, Bardugo is capable of twisting around the plot until you're simply gaping and marvelling over how this woman hasn't committed the perfect heist without anyone knowing… She probably has. (Just kidding, don't sue me, Bardugo.) One of my favorite characters…(the crowd cheers) Yes, yes, I'm going to talk about Nina Zenik.. Nina Zenik was born out of Bardugo's beautiful mind but she now resides in my heart as the queen forever and everrrrr. She's the plus-size drop-dead-gorgeous enchantress who made me tumble in love with her since the very first second she mumbled with an open mouth filled with cake: "Don't care. So hungry." Me too, Nina, me too. My love for Nina is selfishly because  she makes me love my body. It was Nina's existence that pushed me toward the self-love I needed in my life.
---
And that's all. I only included 8 books this time because I want to make another post in the future! I know this list isn't very diverse with the exception of maybe 2 books and I promise the next one will be! Also: I know some of these books are bestsellers and don't really need recommendations but I wanted to pay younger-me a little tribute since I loved these books growing up. I didn't have a bookish childhood like many bookworms online, and I only started reading avidly in 2012.
What are your earliest books that you simply can't help but think of fondly?